Regular price
$23,500.00 CAD
Regular price
$26,500.00 CAD
Sale price
$23,500.00 CAD
Unit price
per
Sale
Sold out
Get more done with the GsdBx 20

Introducing the one and only, GsdBx 20' (Get Stuff Done Box) Portable Shipping Container Office. This is the ultimate solution for your on-the-go workspace needs. Designed to combine durability, functionality, and convenience, the GsdBx container office has features that will revolutionize your work experience, including multi-functionality. Whether you're looking for a portable office, secure tool & equipment storage, a remote worksite setup, or a versatile business facility, our container office has all of this built into one very large steel box ready to take on a hurricane and get sh!! done. 
Shipping Container Office Frequently Asked Questions
Q) Is the GsdBx container office rodent-proof?
A) Absolutely! With a 90-minute fire-rated steel mandoor, security screen-covered windows and cast iron security lock box protection, it's bear, raccoon, velociraptor, and liger proof too. 

Q) Can I get customizations one the GsdBx container office? 
A) Absolutely! We offer a wide range of customization options, including solar power, wall and floor finishing options, power, windows, doors and more! We have inventory in stock, but we also build to suit. If you can imagine it, we can do it. 

Q) Do you have these in stock? I need a GsdBx tomorrow. 
A) Absolutely! Call us at 778-403-3990 and come see one of these beasts in person at our South Shawnigan location just 13 minutes from Langford. 
Key Features:
Compact & Robust: Built within a sturdy 20' shipping container, our office maximizes space without compromising durability. It's engineered to withstand even the harshest weather conditions, ensuring your work stays uninterrupted.


Office and Storage In One: The GsdBx is almost like the mullet of portable workspace. It's part office in the front and part storage in the back. 



Powerful Electrical System: Equipped with a robust 100amp electrical system, our container office guarantees a reliable power supply for all your office equipment and devices. Say goodbye to power interruptions and hello to seamless productivity.

Multiple Quad Receptacle Outlets: Stay connected and power up your gadgets effortlessly with four strategically placed quad receptacle outlets. No more hassle of juggling cords or searching for power sources; our container office has you covered.

Stay Comfortable, Always: Enjoy a cozy and comfortable workspace with the integrated baseboard heating system. No matter the temperature outside, our office ensures a pleasant environment for your productivity to soar.

Exceptional Insulation: Experience superior insulation with our 1" spray foam insulation, offering excellent thermal regulation and noise reduction. Focus on your work without distractions, and save energy in the process.

Stylish & Refined Interiors: The interior walls of our container office are elegantly finished with prefinished birch plywood, providing a touch of sophistication to your workspace. Aesthetics meet functionality in every corner.

Safety First: Our non-slip epoxy floors guarantee a secure working environment, minimizing the risk of accidents even in high-traffic areas. Your safety is our top priority.

Convenient Access: Access your office effortlessly through the secure and durable mandoor, featuring a reliable locking mechanism. Enjoy peace of mind knowing your workspace is protected.

Embrace Natural Light: Boost your mood and productivity with the inclusion of a large 3x4' window, inviting an abundance of natural light into your office. Breathe in the inspiration that surrounds you.
Additional Features:
Energy-Efficient LED Lighting: Illuminate your workspace with eco-friendly LED fixtures, reducing energy consumption and your ecological footprint.
Climate Control: Our container office has an air conditioning system, allowing you to create a perfect working atmosphere, regardless of outside weather conditions.
Optimal Layout: Experience a spacious and functional layout with integrated desk space, ensuring ample room to work efficiently and comfortably.
Customizable Options: Tailor your container office with additional windows, partitions, restroom facilities, and more. Create a workspace that aligns perfectly with your needs and preferences.
Furniture Packages Available: Choose from our optional furniture packages to personalize your workspace and make it your own.
Branding Opportunities: Explore external painting options to match your branding or showcase your personal style. Make a statement wherever you set up your office.
Benefits:
Portability Redefined: Seamlessly transport and relocate your container office to adapt to your evolving business needs. Go wherever your work takes you.
Cost-Effective Solution: Compared to traditional office construction, our container office offers a budget-friendly alternative without compromising quality or functionality.
Quick Setup, Instant Productivity: Set up your office swiftly and efficiently, saving valuable time and resources. Get to work and make an impact faster than ever before.
Versatile Applications: Perfect for a range of industries,
Share
View full details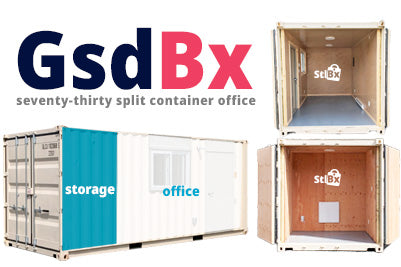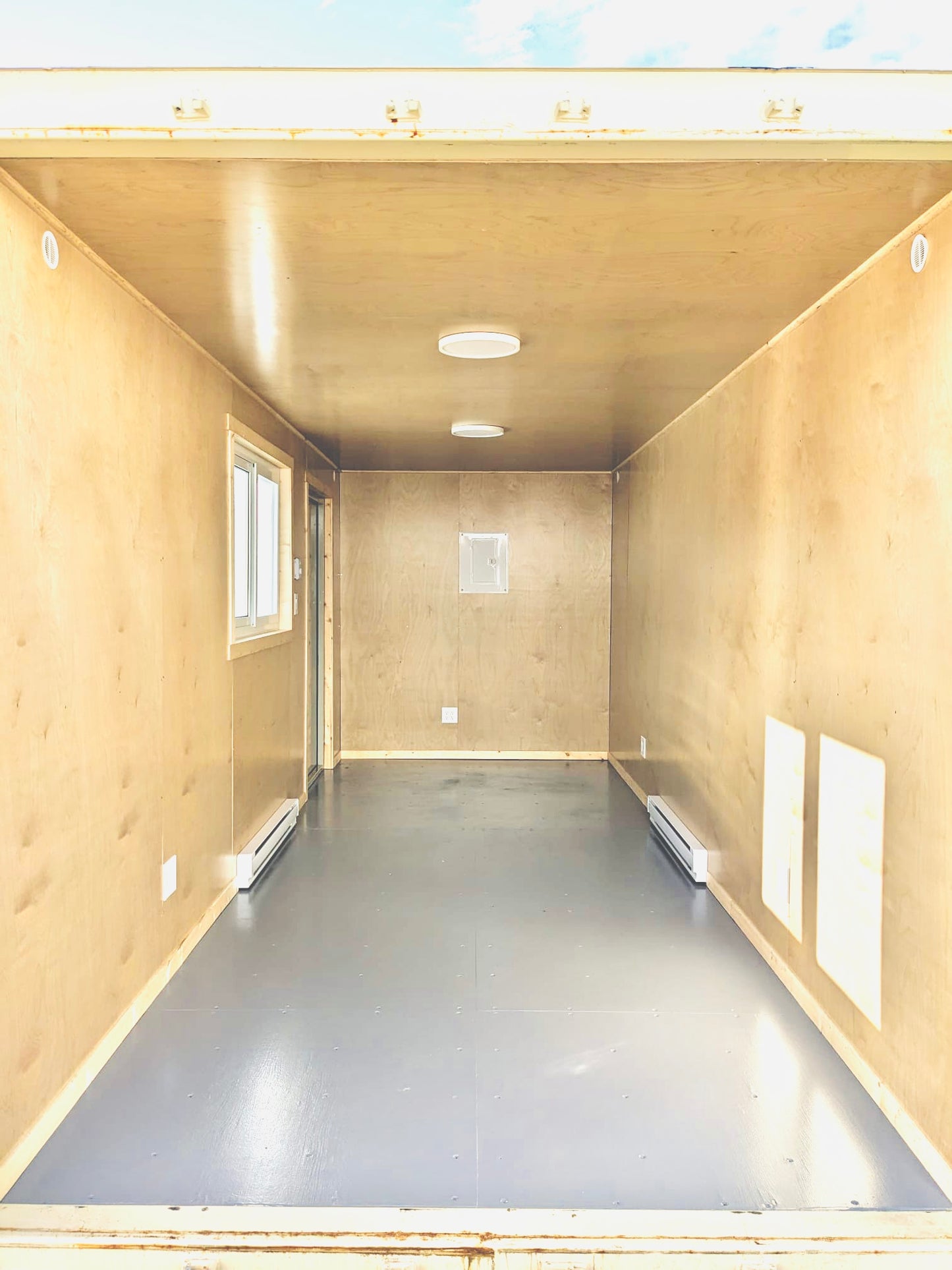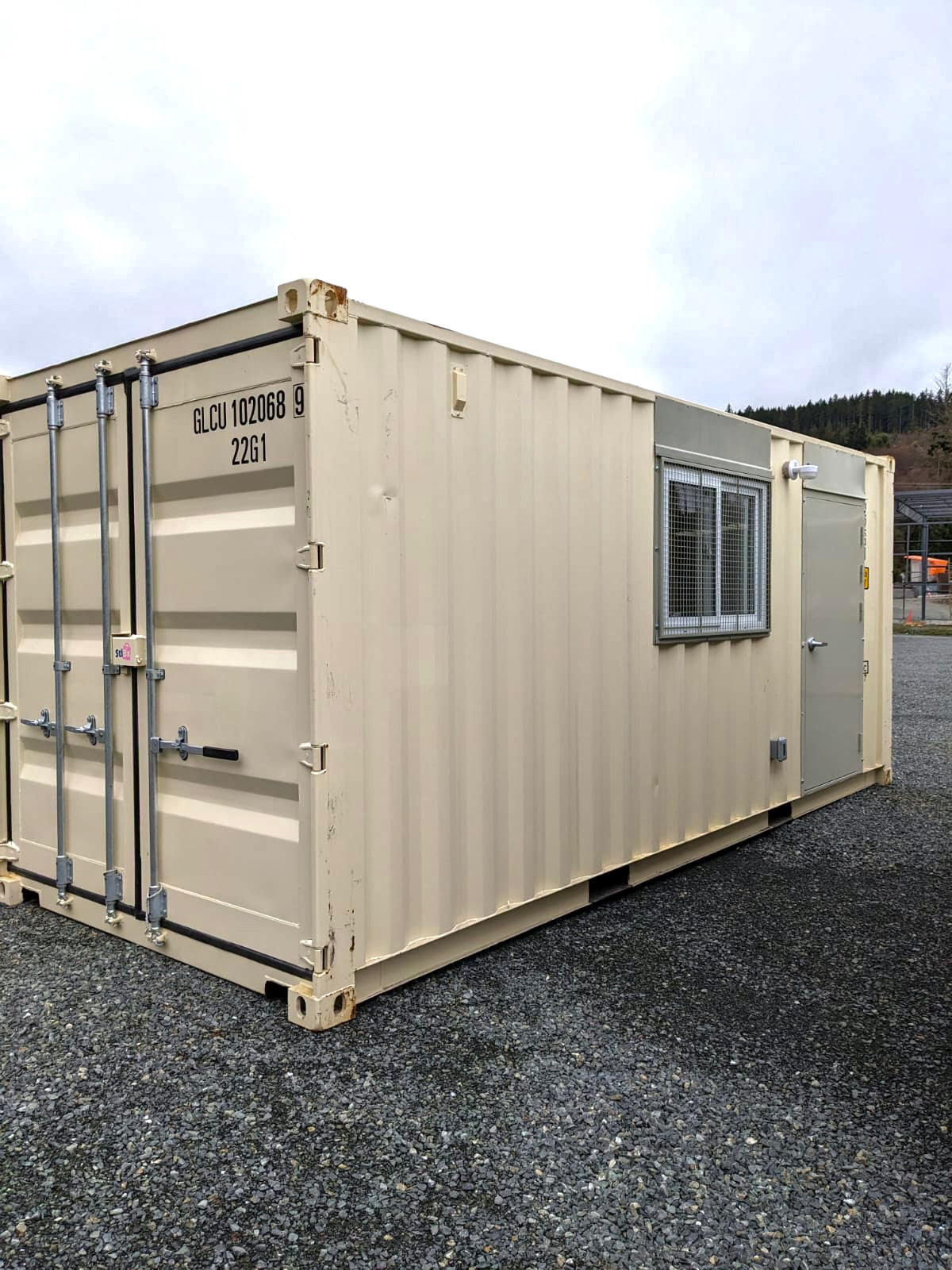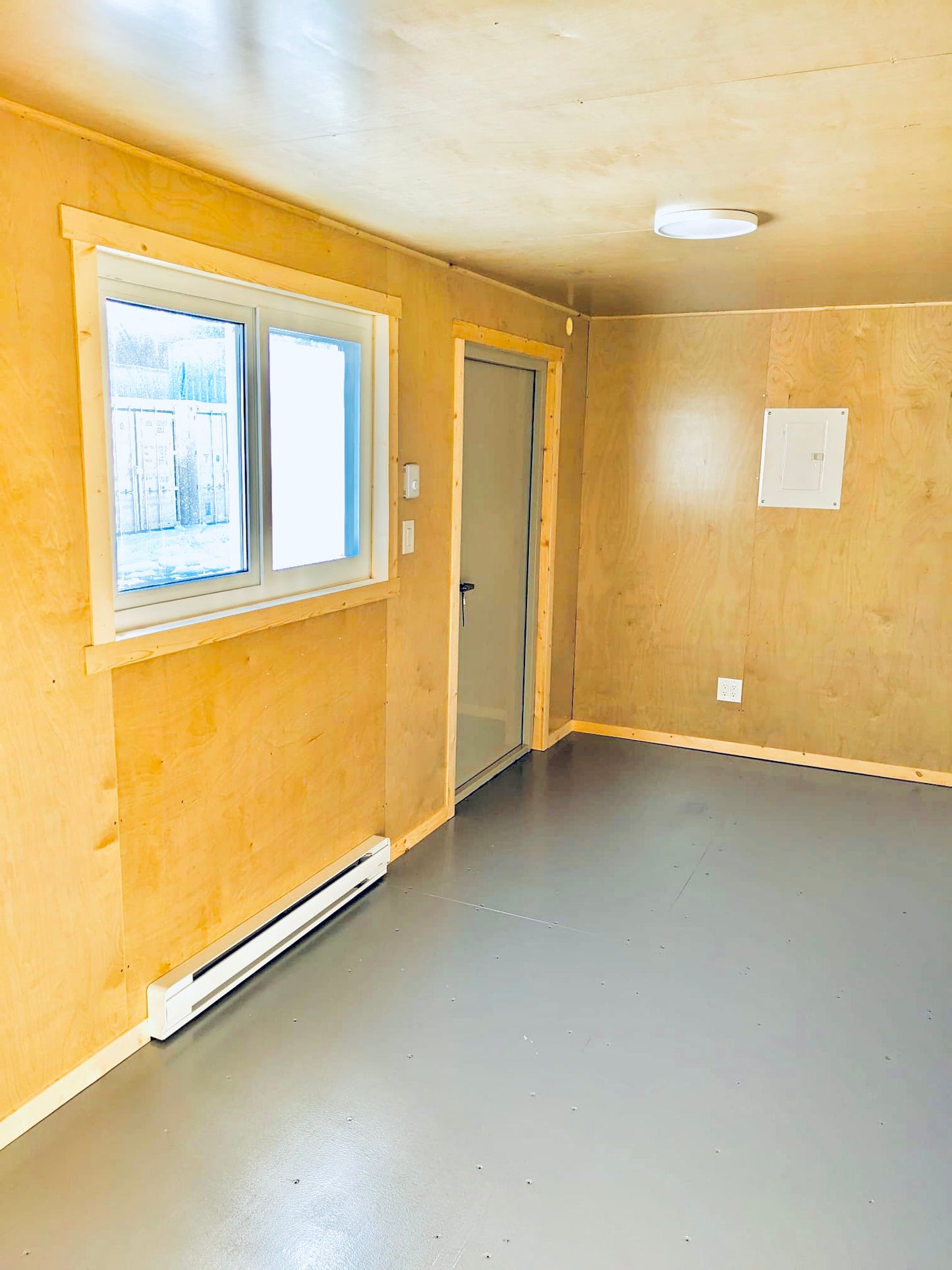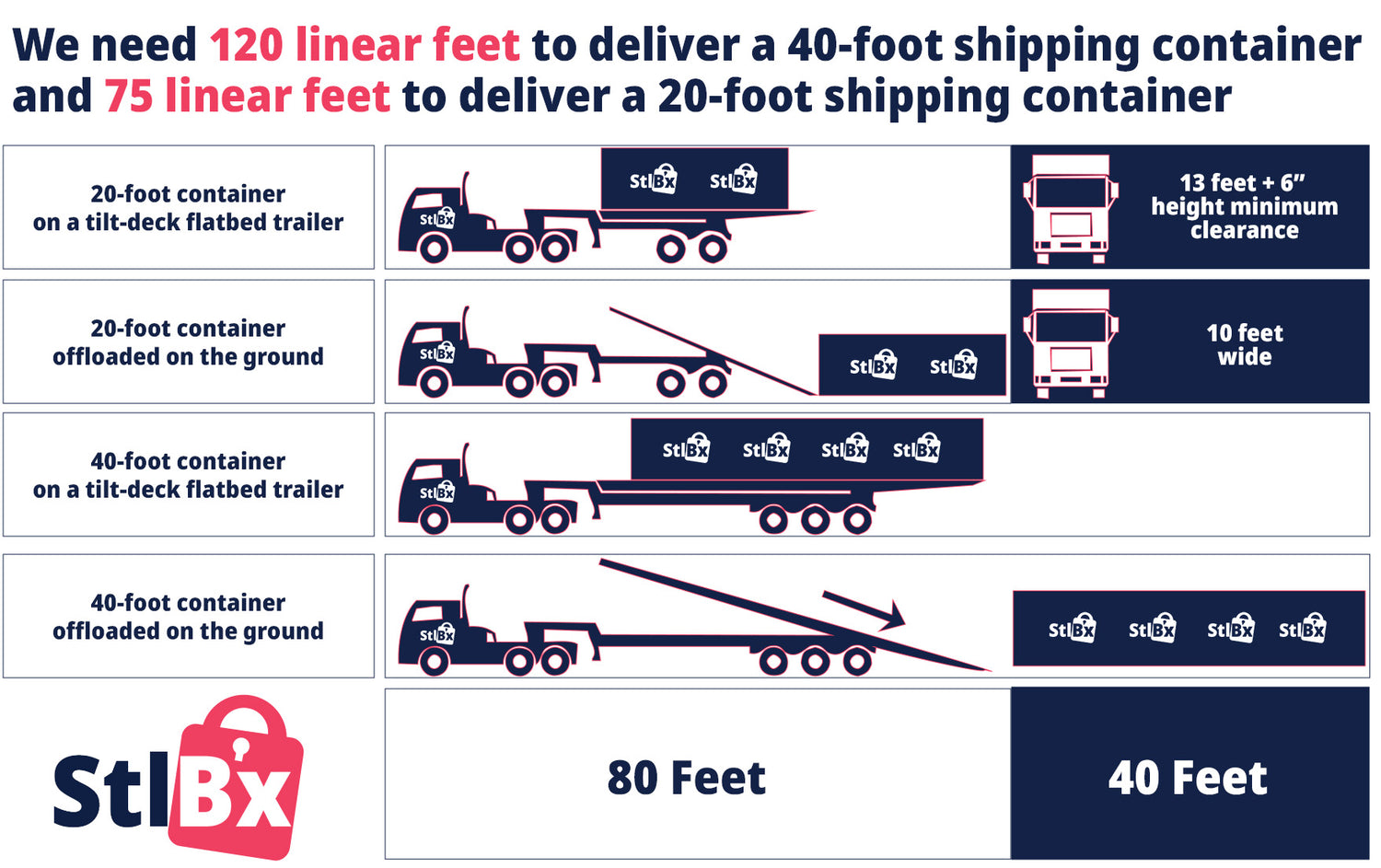 Delivery Guide
Please make sure to take delivery into consideration when ordering your shipping container.
We deliver by tilt-deck flatbed trucks. That means we load the containers onto a truck, back into the space where you'd like us to place and then we tilt the deck of our trailer or truck up and slide it off the back.
Check out the Stlbx complete shipping container delivery guide for more information on what to expect when your shipping container arrives.
shipping container delivery guide
We deliver on all levels.
Shipping

Delivery rates are as follows:
10' Standard Height - $95 per hour + 1 hour loading and offloading
20' Standard Height - $115 per hour + 1 hour for loading and offloading.
40' Standard Height - $145 per hour + 1 hour for loading and offloading.
40' High Cube - $145 per hour + 1.5 hours loading and offloading.

Tolls, ferry costs and weather or traffic delays are not included and are the responsibility of the buyer.

Returns

StlBx offers a one-year guarantee on all of it's products excluding items labelled "As-Is".

In the unlikely event that a container leaks, StlBx will repair the leak or pay to have it repaired within one year of the date of purchase. StlBx does not take any responsbility for leaks, flooding, condensation, mould or mildew buildup that could occur in a shipping container. It is the responsibility of the buyer to monitor, inspect and insure the goods or property within their shipping container. Under no circumstances will StlBx pay to replace or repair any items stored inside any shipping container bought, leased or rented from StlBx.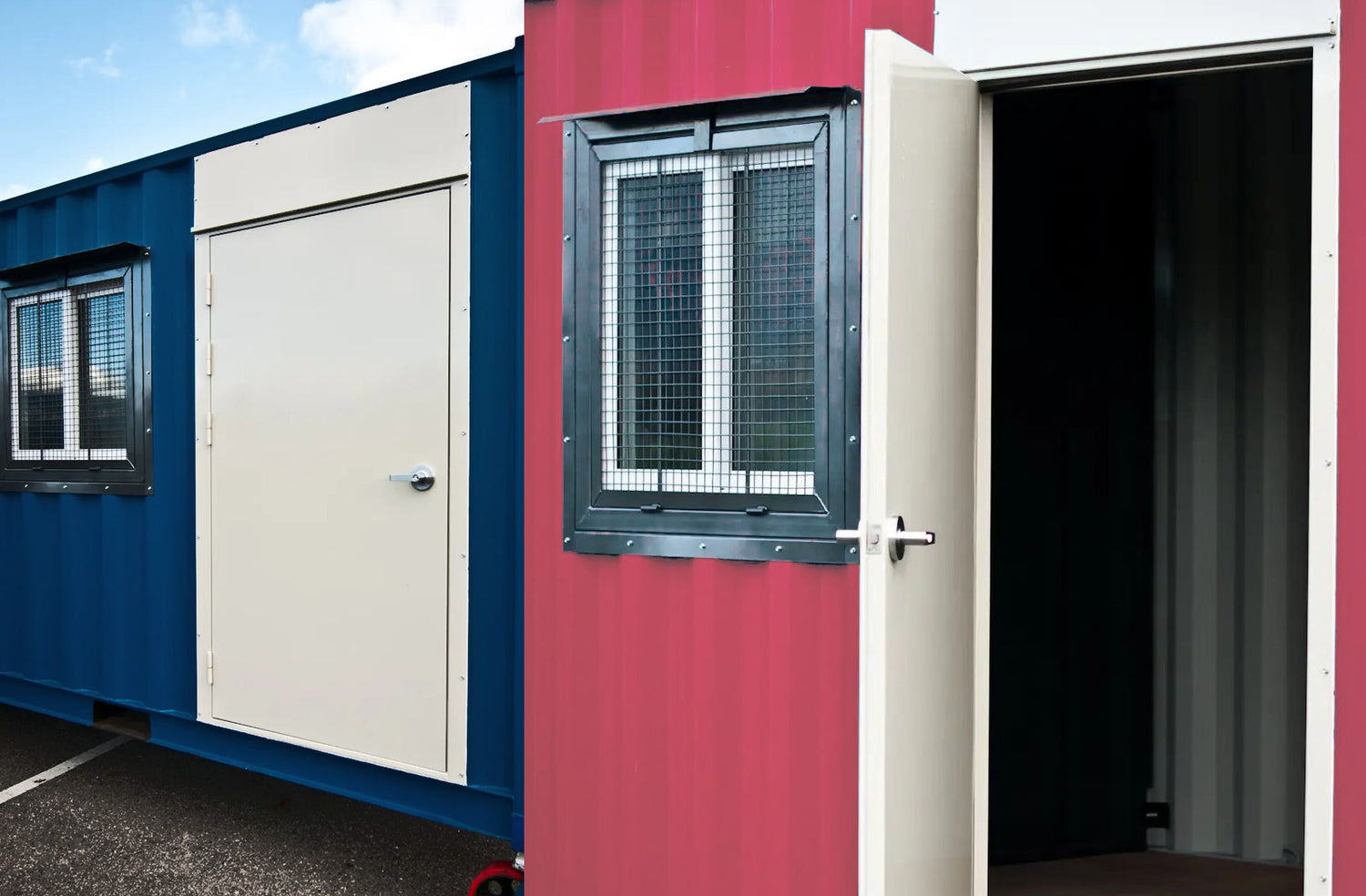 DIY Shipping Container Building Parts (no welding needed)
Not everyone is a welder and that's ok. If you can drill a hole, turn a screw, seal a gap and admire your work, you are just the right kind of person to do you own shipping container modifications.
Stlbx.ca has wide variety of high-quality parts, materials, equipment and accessories specifically designed for shipping container projects like yours.
Everything you could ever need to build really cool, cost effective shipping container projects right here in our online store.
Get more out of your space with the StlBx Shelf System
Looking for shelving ideas?
The new Stlbx Shelf System installs in less than two minutes, requires no welding, screws or drilling and can hold up to 2000 lbs.

Order yours today :)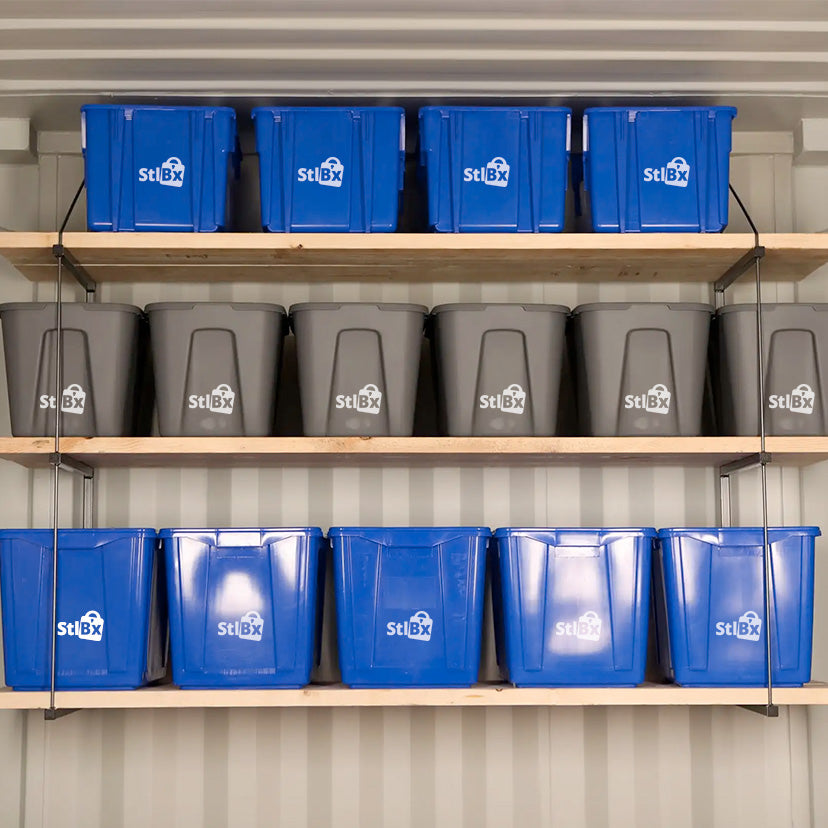 Stlbx Ez Shelf (shelving/lumber not included)
Regular price
$120.00 CAD
Sale price
$95.99 CAD
Unit price
per
Sale
Sold out
Share
View full details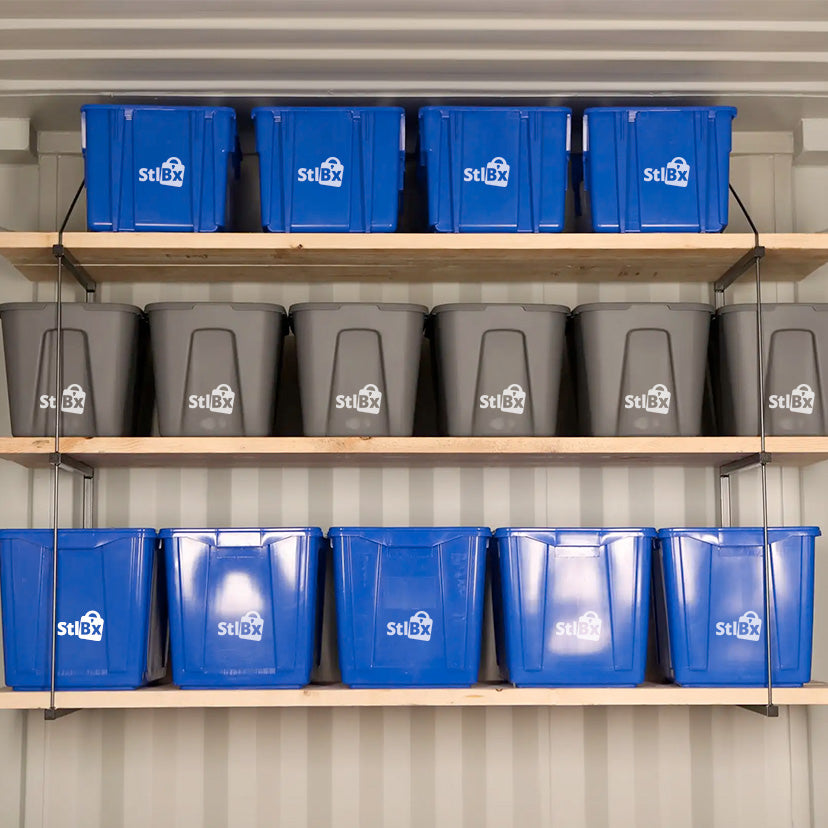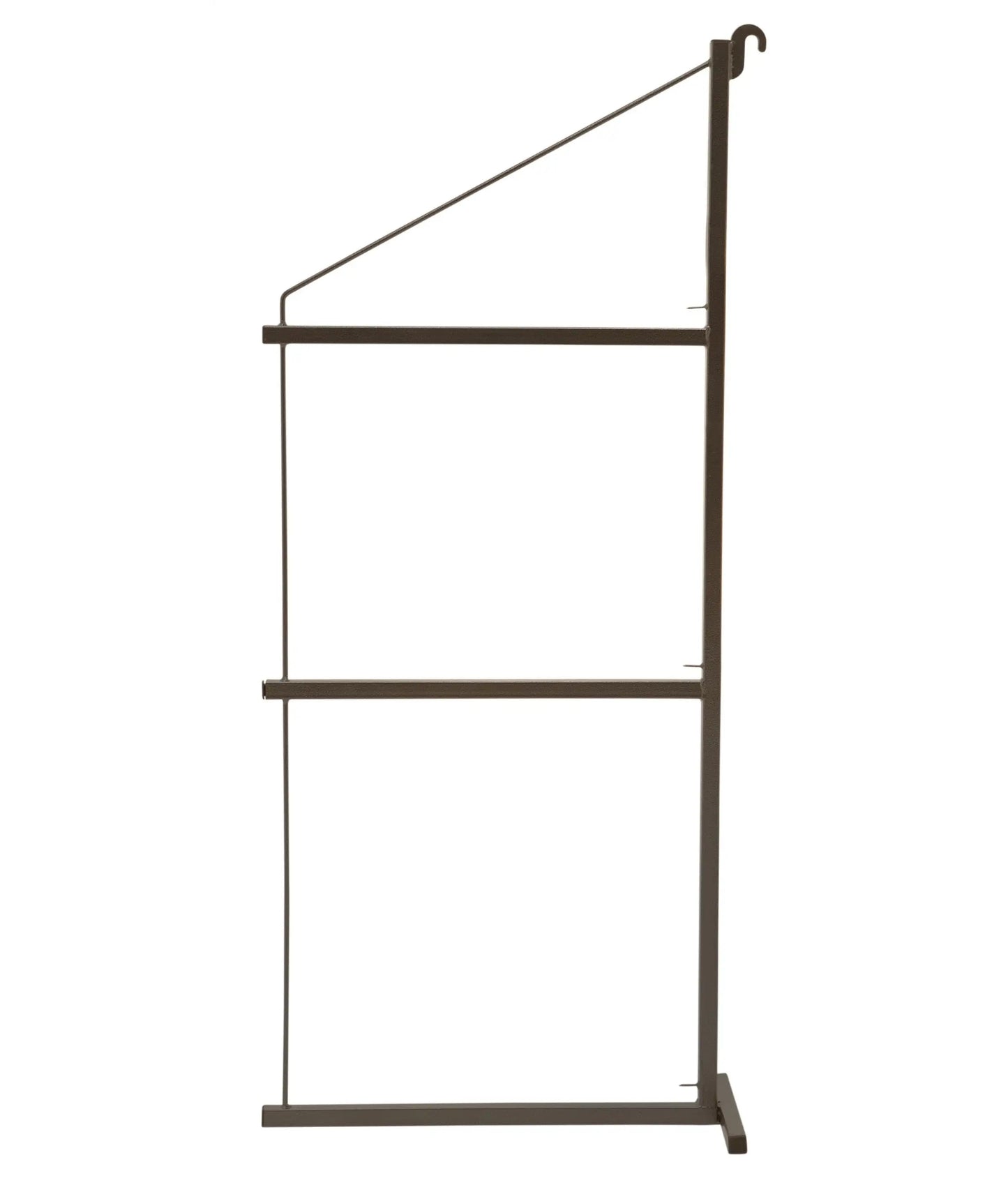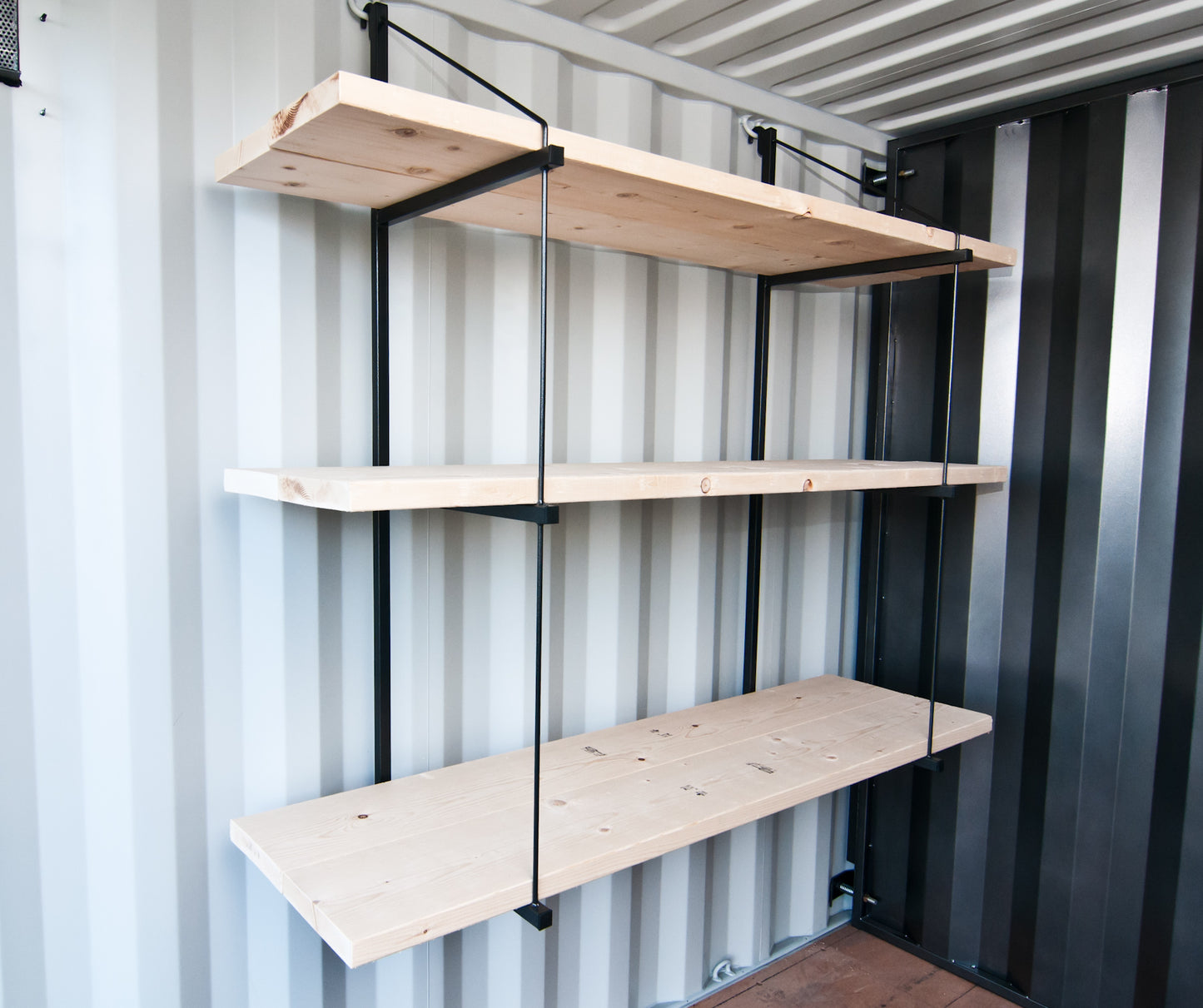 Shipping Container Grade Overview
New shipping containers (otu): Technically, a new shipping container is used one time. That's because all containers are made in China and then shipped here to North America.
One-time-use containers have made a trip on a container ship and as such, they have some minor scratches, dents, bumps and dings.
Cargo Worthy Shipping Containers (cw): Any container that isn't new or one-time-use is technically, considered to be Cargo Worthy but the most common Cargo Worthy containers are between 8-14 years old and have been rigously used and abused during this time. Expect a cargo worthy shipping container to be visually ugly but functionally sound. This means they have great doors, floors, walls and ceilings. There should be no protrusions and the container should have the ability to be fully sealed with less that 15% total rust coverage.
Wind and Water Tight Shipping Containers (wwt): As a shipping container ages and reaches the end of it's life as an international transport device, it becomes degraded to wwt status. This means that while it's still able to be completely sealed, it has been rejected by a certified marine inspector to be renewed as an international transport device and is no longer marine worthy.